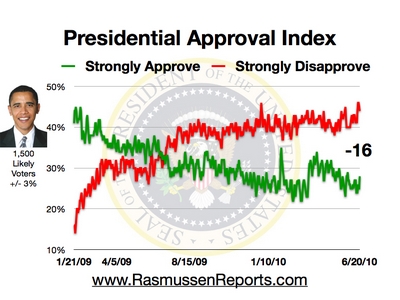 The Rasmussen Reports daily Presidential Tracking Poll for Sunday shows that 28% of the nation's voters Strongly Approve of the way that Barack Obama is performing his role as president. Forty-four percent (44%) Strongly Disapprove, giving Obama a Presidential Approval Index rating of -16 (
see trends
).
Forty-seven percent (47%) still blame today's economic problems on the recession that began during the presidency of George W. Bush
. But now 45% say they're due to the policies of President Obama.
The Presidential Approval Index is calculated by subtracting the number who Strongly Disapprove from the number who Strongly Approve. It is updated daily at 9:30 a.m. Eastern (sign up for free
daily e-mail update
). Updates are also available on
Twitter
and
Facebook
.
Overall, 43% of voters say they at least somewhat approve of the president's performance. Fifty-seven percent (57%) disapprove.
Check out our review of last week's key polls to see "
What They Told Us
."
In his new book, Scott Rasmussen observes, "Most of us have come to believe that the political system is broken, that most politicians are corrupt, and that neither major political party has the answers. Some of us are ready to give up and some of us are ready to scream a little louder. But all of us believe we can do better.
This is a sad day for our liberal friends that put all their eggs in one Obama basket. Now the left will say this is racism or something stupid like that. But the fact is most Americans still like Obama as a person. They just hate what he is doing to the country.