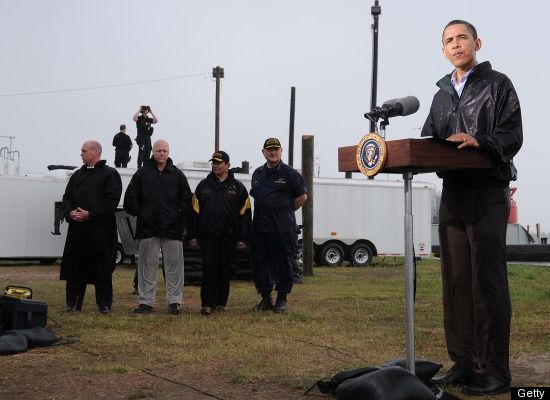 The British Petroleum oil spill is leaking more than 200,000 gallons of oil a day (the equivalent of 5,000 barrels) into the Gulf, and experts predict it will hit the coast within hours.Executives at BP have been unable to determine the exact cause of the explosion, which killed 11 workers on the oil rig the fuel company leases from Transocean Ltd. Although wild speculation has traced the cause to everything from neglect to poorly-made concrete seals, authorities said they will take into account all possibilities and have not ruled out
criminal activity
.Ironically, President Barack Obama is now
taking some heat
for the government's slow response to the catastrophe. It took the president nine days to even address the tragedy and 12 days to allocate federal resources. The irony, of course, is that Obama was one of President George W. Bush's harshest critics during the 2008 presidential campaign, and frequently pounded the administration for the federal government's slow response to the devastation wrought by Hurricane Katrina in 2005. In
a speech given on race relations and Katrina
at Harvard in October 2008, Obama said the response by Bush and FEMA revealed a "passive indifference" toward black people "that is common in our culture ..."
If this had just been a one-time, offhand remark, Obama's recent inaction to the BP oil spill wouldn't be so bewildering. But Obama made the Katrina debacle a cornerstone of his presidential campaign, implying over and over that he would have done things differently, and pledging that the change he was bringing would ensure it would never happen again.Now, a year and a half later, the Obama administration has its own Katrina on its hands. The White House, of course, is claiming that the two disasters have nothing in common, when in fact they have everything in common. Just like it did with Katrina, the oil spill's devastation is only now beginning to come into focus thirteen days after the initial destruction. Just like Katrina, the oil spill continues to wreak havoc the longer the cleanup goes unaddressed.The White House has been defending itself by saying that Katrina was a natural disaster, and therefore the federal government had the principal role in relief efforts (according to
The Washington Times
, however, "Later assessments by some organizations found that the primary responsibility for the disaster response lay with New Orleans Mayor Ray Nagin and Louisiana Governor Kathleen Blanco, not federal officials"). The oil spill, on the other hand, was a man-made disaster, and therefore -- according to the White House -- the company responsible for the destruction is also responsible for its cleanup. In one case, nature laid waste to people, in the other, people laid waste to nature.The problem with this logic, however, is that a large oil company like BP isn't equipped to deal with an ecological disaster of this magnitude. If it is discovered that the spill was the result of a criminal act, the lag in response by the federal government will forever taint the Obama presidency. The administration has been defending its inaction recently by saying that the cleanup is BP's problem and that the company will foot the bill for its cost. Should investigators determine that foul play was the cause, however, the discussion will undoubtedly change and so will the debate over the Obama administration's level of blame.Many people mistakenly believe Bush simply didn't care about the people of New Orleans. The reality, however, is that he was simply waiting to see whether state and local officials would be able to handle the rescue and recovery efforts. His mistake was following protocol. Had he dispatched a federal response immediately, untold lives might have been saved. The lesson here was that, regardless of who bears the responsibility, it is the federal government's job to keep the nation and its resources safe from disaster.
Obama is finding out it's not enough to recognize the mistakes of the past and condemn them. One must
learn
from them as well.